UC Irvine Today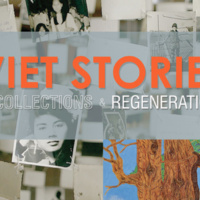 VIET STORIES: Recollections & Regenerations
Viet Stories: Vietnamese American Oral History project at the University of California, Irvine is pleased to announce the opening of VIET STORIES: Recollections and Regenerations, an art, history, and oral history exhibition in the Rose Hills Foundation Gallery at the Richard Nixon Presidential Library and Museum in Yorba Linda, California.
VIET STORIES remembers the past and captures the diversity and transformation of the contemporary Vietnamese American community. It incorporates the history of refugees and immigrants from Vietnam over the last 40+ years through historical photographs, documents, artifacts, oral history interviews, and original artwork by prominent Vietnamese American artists.

Highlighted artists include: Ann Phong, Be Ky, Binh Danh, Chau Thuy, Dinh Q. Le, Ho Thanh Duc, Howard Hao Vy Tran, Hung Viet Nguyen, Long Nguyen, Nguyen Dong, Nguyen Khai, Nguyen Ly, Nguyen Thi Hop, N Tuan, Tiffany Le, Thuy Linh Bennet Kang, and Vi Ly. Also featured are fashion designers: Bao Tranchi, Taryn Rose, and Thai Nguyen as well as jewelry artist Chi Huynh.
This exhibition was organized by Nixon Library Museum Curator Olivia Anastasiadis and guest curated by Dr. Linda Trinh Vo, Director of Viet Stories: Vietnamese American Oral History Project and Professor at UC Irvine, and Tram Le, External Consultant, and Arts & Culture Specialist for the City of Santa Ana.
Monday, May 28, 2018 at 10:00am to 5:00pm
Richard Nixon Presidential Library and Museum, Rose Hills Foundation Gallery 1800 Yorba Linda Blvd., Yorba Linda, CA 92886
Event Type

Audience

Website
Cost

$6-$16

Department

Hashtag

Event Sponsor

University of California, Irvine: Chancellor's Arts & Culture Initiative, School of Humanities, Humanities Commons, Department of Asian American Studies, Department of Art History, Orange County & Southeast Asian Archive Center; University of California Humanities Research Institute; Jao Foundation; Wells Fargo Foundation; Edison International; OC Parks; and Monarch 9 Cafe

Event Contact Phone

714-983-9120

Add to Calendar