UC Irvine Today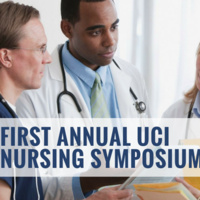 UCI Nursing Symposium
The inaugural UCI Nursing Symposium brings the Orange County nursing community together to explore theories, approaches and strategies that can turn innovative ideas into practice. The symposium features presentations by internationally recognized experts in the field of nursing.
Sessions are designed to promote a participatory environment and include hands-on interactive learning workshops and interactive poster sessions. Attendees will earn eight continuing education units (CEUs).
Students who can show proof of enrollment in a nursing program will receive a $15 discount if they register by May 14. Student ID is required.
Wednesday, June 13, 2018 at 8:00am to 4:45pm
Medical Education Building, Colloquium Room 3070
836 Health Sciences Rd, Irvine, CA 92697