UC Irvine Today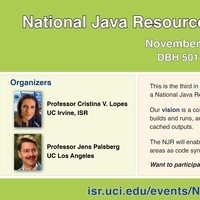 National Java Resource (NJR) Workshop Series
Third in a series of workshops with the goal of establishing a National Java Resource (NJR). Join UCI professor Cristina Lopes and UCLA professor Jens Palsberg to learn how you can particpate in this project!
Sponsored by the NSF.
Our vision is a collection of 10,000 Java projects, each of which builds and runs, and for which popular tools succeed and have cached outputs. This National Java Resource will lower the barrier to implementation of new tools, speed up research, and ultimately help advance research frontiers.
Friday, November 17, 2017 at 9:30am to 2:00pm
Donald Bren Hall, 5011
6210 Donald Bren Hall, Irvine, CA 92697
Event Type

Audience

Website
Cost

Free

Department

Hashtag

Event Sponsor

Institute for Software Research

Event Contact Email

Add to Calendar