UC Irvine Today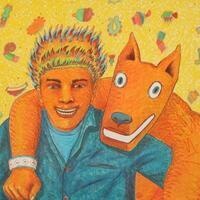 Aztlán to Magulandia: The Journey of Chicano Artist Gilbert "Magu" Luján Opening Reception
Meet the curators at this opening reception.
UC Irvine's University Art Galleries (UAG) will present the first survey of one of the most iconic figures of the Chicano art movement, Gilbert "Magu" Luján (1940–2011) and an accompanying publication.
The UAG's retrospective will focus on creativity and invention in Luján's work in a myriad of sketches and drawings, paintings, and sculptures. Luján combined two world-making concepts, Aztlán, the mythic northern ancestral home of the indigenous Mexican Aztecs that became a charged symbol of Chicano activism; and Magulandia, the term Luján coined for the space in which he lived and produced his work, and for his work as a whole. Together, Aztlán and Magulandia represented both physical spaces and the complex cultural, geographic, and conceptual relationships that exist between Los Angeles and Mexico and served as dual landscapes for Luján's artistic philosophy and cultural creativity.
Saturday, October 7, 2017 at 2:00pm to 5:00pm
University Art Gallery, Contemporary Arts Center Gallery
712 Arts Plaza, Irvine, CA 92697-2775
Event Type

Audience

Website
Cost

Free

Department

Hashtag

Event Sponsor

Claire Trevor School of the Arts

Event Contact Email

Event Contact Phone

949-824-9854

Add to Calendar