UC Irvine Today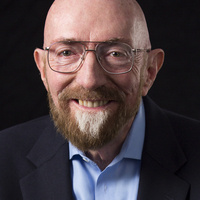 Exploring the Universe with Gravitational Waves: From Big Bang to Black Holes
With Kip Thorne, 2017 Nobel Laureate and Theoretical Physics professor at California Institute of Technology.
There are two types of waves that can propagate across the universe: electromagnetic waves and gravitational waves. Galileo initiated electromagnetic astronomy 400 years ago by pointing a telescope at the sky and discovering the moons of Jupiter. LIGO recently initiated gravitational astronomy by observing gravitational waves from colliding black holes. Thorne will describe this discovery, the 50 year effort that led to it, and the rich explorations that lie ahead.
Registration requested.
Tuesday, March 6 at 7:30pm to 8:30pm
Irvine Barclay Theatre
4242 Campus Drive, Irvine, CA
Event Type

Audience

Tags

Website
Cost

Free

Department

Hashtag

Event Sponsor

School of Physical Sciences

Event Contact Email

Add to Calendar