UC Irvine Today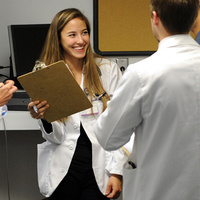 Medicine
The UCI School of Medicine advances medical knowledge and clinical practice through scholarly research (Discover), physician education (Teach) and high-quality care (Heal).

Please join us for a discussion with 2 co-authors of "Dealing with Racist Patients" (New England Journal of Medicine, 2016) as Drs. Kimani Paul-Emile...

The 19th Annual Allen & Lee-Hwa Chao Lectureship in Cancer Research. Dr. Owen N. Witte, Director of the Eli & Edythe Broad Center of Regenerative Medicine &...
EpiCenter Seminar Series presents Professor Karen Wilcox, The University of Utah.
Recent Events